Newborns and Dogs: How to Create a Lifelong Friendship
A Baby's Best Friend
Not long ago, a friend brought her newborn daughter over to visit. I reminded her about our two, energetic, black labs, unsure how she felt about exposing them to little Stella, though it turns out she had just brought a dog home as well, so had little concern. It made me wonder about the relationships between newborns and dogs, and how best to manage them.


Newborns and dogs: Mutual benefits
Anyone who has grown up with dogs understands the special bond it creates. Some couples choose to get a dog well before they think about starting a family. and yet others wait until after their bundles of joy are tucked into their Snoo. Either way, kids and dogs simply go together. 
Our two labs, Shaka and Indy, are the glue of our family because we spend more time together on the floor playing with them than any other family activity. And it's the only one where we don't argue.
According to the American Kennel Club, there are many ways in which children benefit from growing up with a dog. For one, it affects your child's emotional intelligence (more……) . Let's face it, having a dog enhances the well-being of everyone in the home.
Other benefits
These can include an increase of your child's cognitive skills. as well as show improved cognitive development. I'm a full-grown adult and I still babble to my pooches daily.
Maybe most importantly, playing with or petting a dog raises serotonin and dopamine levels, making us happier and healthier humans. Even those baby human's stress levels diminish with having a canine pal around. 

Newborns and dogs: Your pup's BFF
Life with a dog and newborn baby is hectic, but rewarding. The key to success, as with any challenging endeavor, is planning ahead. The good news is that both dogs and newborns thrive on routine and predictable patterns. This should be a snap, right? Well it isn't, but its worth it, trust me.
If your pup is your first 'child', think about ways to expose them to babies or children prior to your delivery date. Parents Magazine suggests bringing your pup to a local park to gauge reactions around kids. Ask friends if you can introduce your dog to their kids. Walk your dog next to their stroller and encourage a few baby/puppy playdates. These tactics will slowly get your dog comfortable with the new baby-centric world that lies ahead. Habits will begin to form. They don't call it Pavlovian behavior for nothing.

Newborns and dogs: H

ow to introduce a newborn to a dog
Dogs may be domesticated animals, but they are still animals. And with that comes a certain level of unpredictability. It's important to be careful and smart about safety regardless of how sweet and mild-mannered your dog may be. Babies throw a curve ball into their lives. Perhaps the only ball your dog won't care to fetch.
According to the American Kennel Club, good rules to follow when having newborns and dogs:
Never leave a baby alone with a dog, no matter the age, temperament, or breed of the canine.
Watch for signs of stress from your dog when they are around a baby. These signs may include, licking lips, yawning, furrowing their brow, or turning their head away.
Create a safe space for your pup if you need to separate them using crates or baby gates. Dogs need to feel safe, just like newborns do.
Never punish your pup for showing signs of concern. Remember, your goal is to cultivate a love between your newborn and pup.
Caution is king. Always trust your instincts when it comes to safety.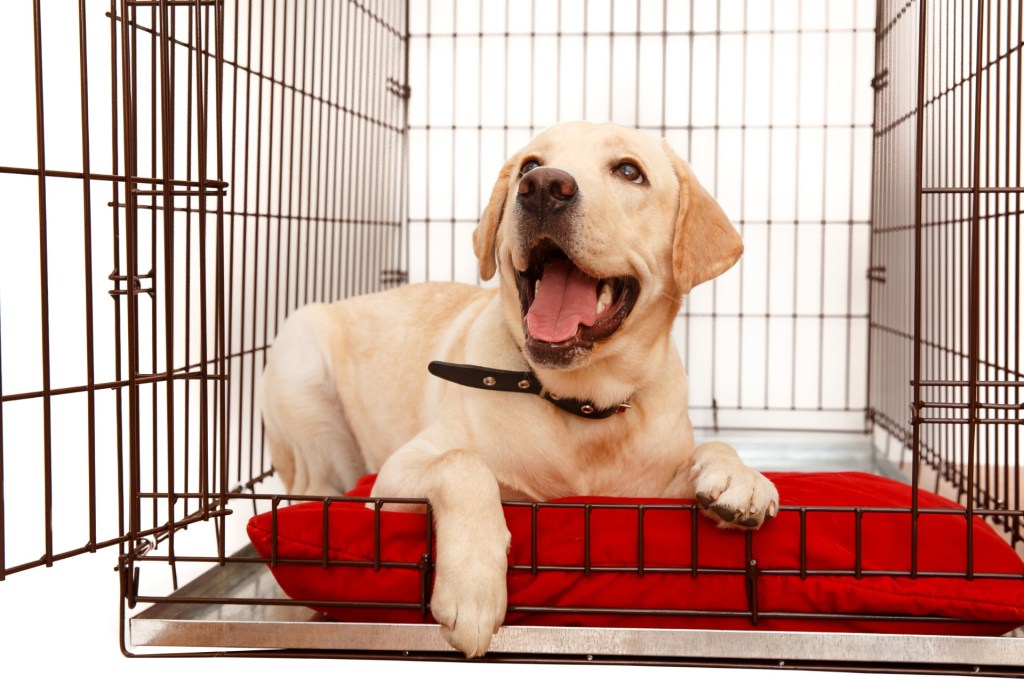 Newborns and dogs: Best breeds for small kids
We all have our favorite breeds. Whether because we grew up with a gentle German Shephard or a drooly St Bernard. However, some breeds are known to be wonderful family pets, and still, others are great choices for babies. 
If you have the luxury to choose your pup after your baby is born, consider the following breeds in your research. These X breeds have an inherent gentle nature that makes them a winner for babies.
Bullmastiff: Although large and serious looking, Bullmastiffs have a strong sense of loyalty and easygoing dispositions. Not to mention the side benefit of being excellent watchdogs.
Golden Retriever: Cuddly, calm, and sensible, Golden Retrievers are the ultimate family dogs. Energetic to keep up with active families outdoors and chill enough to settle down fast indoors.
Labrador Retriever: I am totally breed-biased here, having two beautiful Black Labrador Retrievers at my feet right now. But truth be told, this family-friendly breed is happy-go-lucky, and gentle with kind dispositions. 
Havanese: Havanese are known to be great choices for babies in the home. They are rarely aggressive, naturally friendly, and perfect for those looking for a smaller breed in the home.
Boston Terrier: Another small breed, Boston Terriers have balanced temperaments. This may be part of why they've earned the nickname "American Gentleman." Apparently, Boston Terriers have impeccable manners and are highly adaptable. That's more than I can say for my two kids!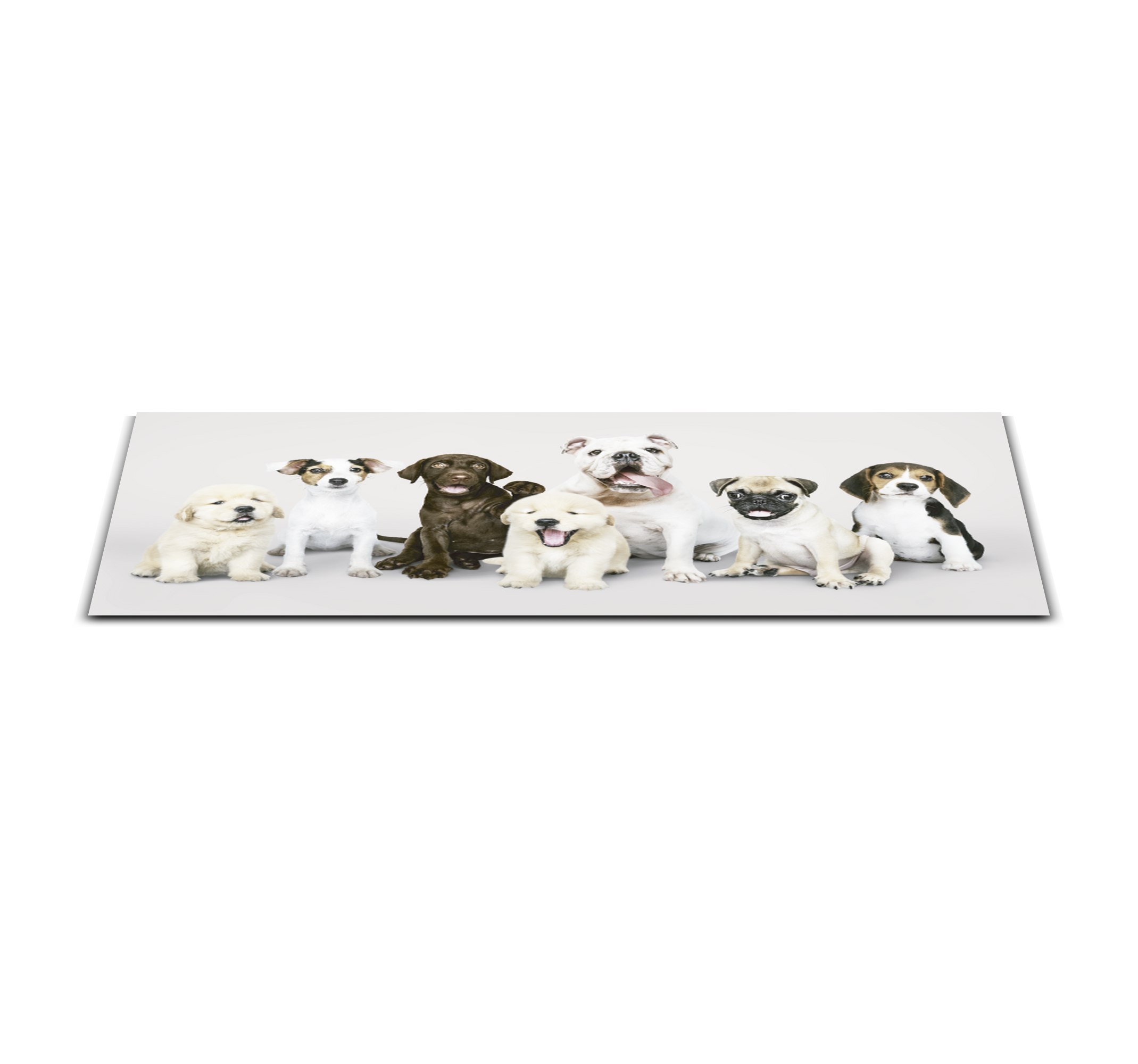 Newborns and dogs: Do your homework
There is nothing more exciting than bringing home a newborn. Whether you already have a dog in the home or are preparing to get one, there are endless resources to peruse. Some valuable sources for those who want more information on how to nurture a relationship between their toddlers or newborns and man's best friend are:
The Ameican Kennel Club: www.akc.org
The American Society for the Prevention of Cruelty to Animals: www.aspca.org
Family Paws: Creating Dog Aware Generations: www.familypaws.com
Pup Love
My friend places Stella, still strapped into her portable car seat, on the floor in front of our dogs. She gazes up, flaps her arms, and coos. She has no fear of these enormous, drooly, monsters looming above her. Shaka licks her delicate feet. Indy sniffs her lavender-scented head. The smell of a newborn baby should be bottled and sold. 
Budding relationships between newborns and dogs are a joy to watch unfold. When managed properly, and with diligent research, newborns and dogs will both benefit from the friendship. One that's based on unconditional love.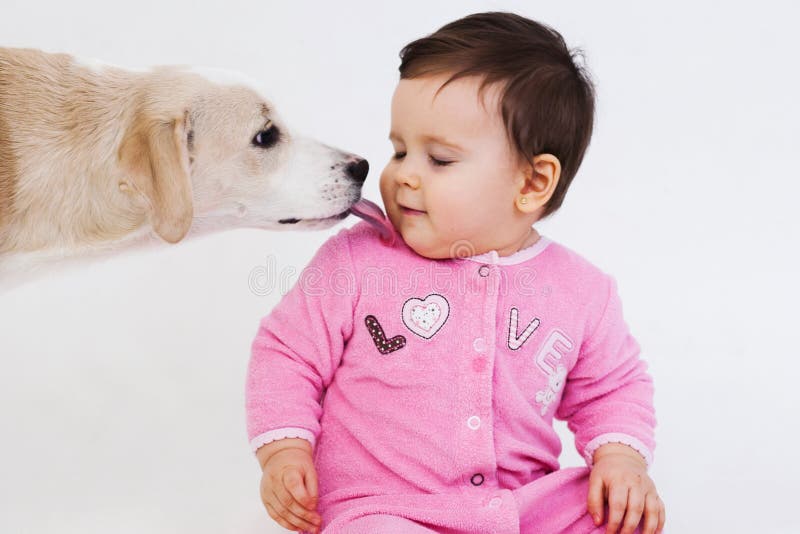 Written by Jamie Edwards
Jamie is an avid traveler, travel writer, and photographer. She launched I am Lost and Found, her adventure/luxury travel website after 25 years of living and traveling around the globe. She has lived in both NYC and Tokyo. Today she resides in Washington DC with her husband, two kids, and two black labs. Jamie's goal is simple: to inspire travel.
(This article is for entertainment purposes only and not meant to be an advisory case on dog ownership. Please consult a professional before bringing a dog or cat into your home with children of any age. Always closely supervise your children around animals.)
Leave a comment